Batman Franchise History
With the recent success of Christopher Nolan's Dark Knight trilogy in the past decade the image of Christian Bale, Heath Ledger, Michael Cane, Morgan Freeman, Anne Hathaway, Tom Hardy, and much more are seared into audiences' brains as the definitive Batman cast.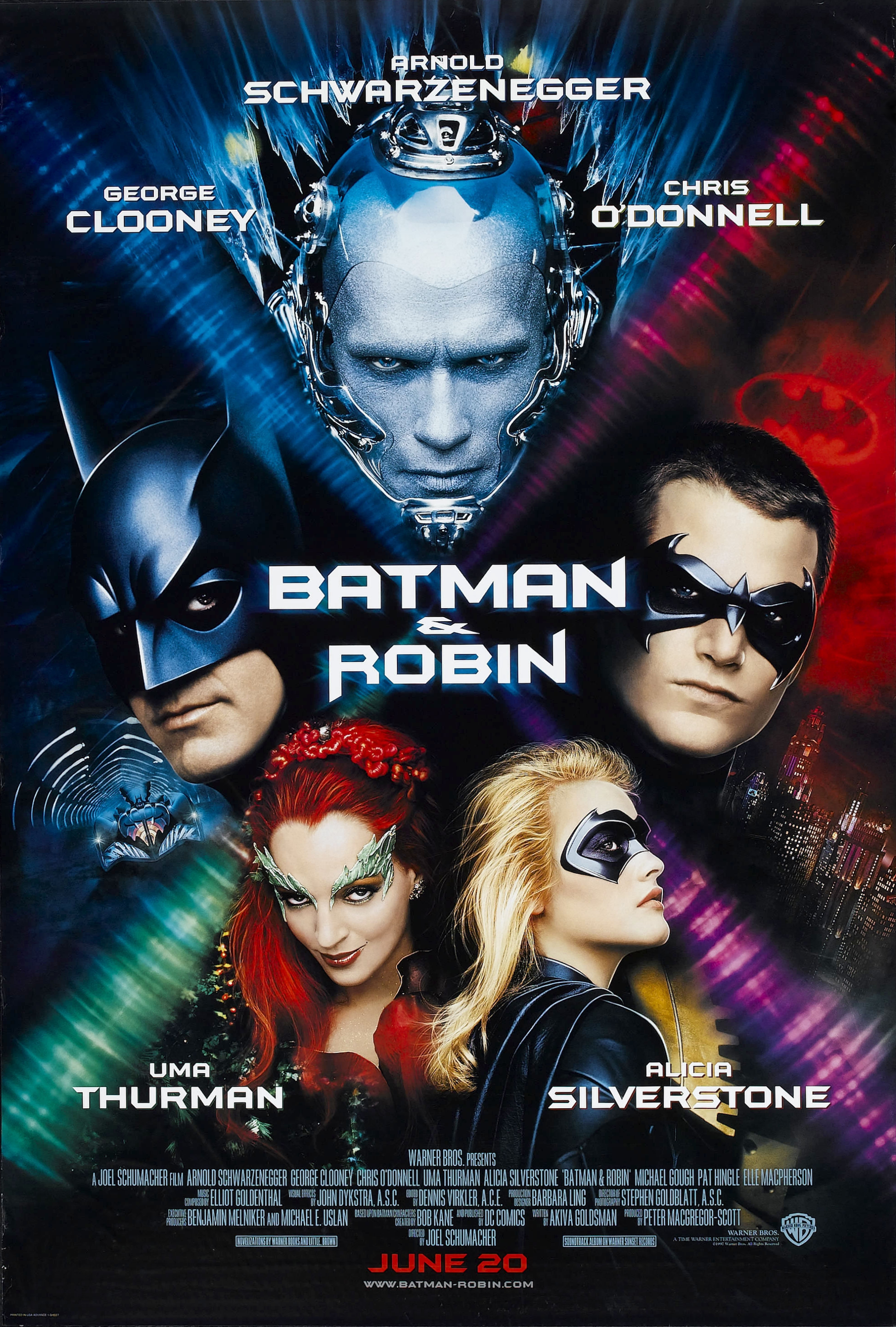 Roughly eight years prior to the 2005 release of Nolan's first Batman film titled, Batman Begins, audiences were leaving the theater disgusted at the sad mess of Joel Schumacher's Batman & Robin (1997) starring George Clooney, Arnold Schwarzenegger, and Uma Thurman. George Clooney was not as big back then, but now most movie goers today know those three actors mentioned above. Batman & Robin was the fourth film in the franchise started by Tim Burton with the 1989 film Batman with Michael Keaton as the title role. Keaton and Burton would return for one more outing (sort of) with Batman Returns. Both Burton films had a small budget but together grossed over $680 million…adjusted for inflation the total nears $900 million from just the two films. Yet the studio would not allow Burton to continue his vision for a third film so they handed the reigns to Schumacher and Keaton was replaced with Val Kilmer. The film, Batman Forever, was a hit but shifted quite drastically from Burton's vision, although it is in the same universe and Burton did produce. For the fourth installment, Schumacher went completely campy and corny and created one giant embarrassment (Burton was not involved with this movie). Both Clooney and Schumacher have apologized for the film since.
Don't forget though that studios are greedy. The audience did not want another Batman film but the studio did; convinced no matter what, audiences would be pulled into see another the Dark Knight dawn his cowel. Consider the Batman box office numbers below from Box Office Mojo:
Batman

: Budget = $35 million Domestic Gross = $251 million Worldwide = $411 million

Batman Returns

: Budget = $80 million Worldwide = $266 million

Batman Forever

: Budget = $100 million Worldwide = $336 million

Batman & Robin:

Budget = $125 million Domestic = $107 million Worldwide = $238 million
Combined Total Gross Over 8 years = $1.25 billion
This is the story of a prequel, sequel, and…spinoff…sort of?
Batman: Year One – A Prequel
Whether you believe it or not, the man who brought you Batman Forever and Batman & Robin wanted to return the series to its dark roots. Schumacher pitched to the studios doing a film over the graphic novel Batman: Year One, written by Frank Miller, who is known for bringing readers one of the first grittier visions of the Dark Knight. If this film would have happened then audiences may have finally seen a proper telling of Batman origins…which surprisingly had never been fully explained even after four films. Apparently the studio did not want this to happen at the time and preferred to stay with the camp theme.
Batman: Year One Returns?
In 2000, Warner Brothers hired Darren Aronofsky (Requiem for a Dream, Noah) to direct Batman: Year One. This film would be a reboot instead of a direct sequel to the previous four films. Apparently Aronofsky collaborated with Miller who had actually written an early draft of the script. Pre-Production fell through and the movie was shelved.
Interestingly enough, Batman: Year One did see an animated release in 2011.
Django Unchained…Oh Wait…Batman Unchained – A Sequel
In 1996 Warner Brothers was so impressed with the footage from Batman & Robin that they hired a new writer to pen a script for a fifth Batman film to follow in continuity with the previous four. Thus Batman Unchained was scheduled for a mid-1999 release before the fourth film had even come out. According to The Hollywood Reporter, Batman Unchained has been called Batman Triumphant online, but that is incorrect. The plot gets pretty wacky so stay with me.
"Batman, Robin, and the newly formed Batgirl are back! (all actors reprising their roles from Batman & Robin). Scarecrow is the new villain in town and he's spreading some fear toxin around (sounds familiar). Batgirl may get offed by Scarecrow so she's out of the movie quickly (from what I've heard). Batman ingests this fear toxin and (here's where it gets weird) the Joker returns, along with Catwoman, Penguin, Riddler, and Two Face! In the real world Harley Quinn is out for Bat blood. She is the daughter of Jack Napier aka the Joker (from Batman 1989) and she's looking to take the Bat out for causing her father's death. Through hallucinations Batman must face the Joker in an intense climax. After defeating his inner demons, Batman travels to another part of the world where he steps into a cave where bats begin to surround him as credits roll."
Pretty crazy script right? Honestly, this might've been a very interesting movie, especially if Jack Nicholson (the Joker) would reprise his role. Actually this means Jim Carrey, Tommy Lee Jones, Michele Piefer, and Dany Devito would reprise their roles as well."Joel wanted to tie up all of the films. The Tim Burton films and his films, building up to this moment," says Protosevich (the film's screenwriter). Plus Nicolas Cage was being pursued to play The Scarecrow so this could've been one fun movie! It seems the new screenwriter went beyond the three villain formula (which was one of the major downfalls of the Batman franchise after the first installment). Schumacher wanted to go dark with this film. I believed he tried to go somewhat dark with Batman Forever so who knows how dark he really would've gone, but this zany of a film sounds too great to pass up. I would take Batman Unchained over Batman & Robin any day.
After Batman & Robin under performed at the box office and the reviews came back negative, Warner ultimately decided to scrap the project.
Batman Beyond Goes Too Far – Live Action Spinoff
This is the most surprising film on the list. Batman Beyond was an animated series from 1999-2001. It was a successor to the wildly popular Batman: The Animated Series which ran from 1992-1995. Not much is known about this film except it was being written by Paul Dini ('Animated Series' writer) and was going to be directed by Boaz Yakin (Remember the Titans, Now You See Me, Prince of Persia).
Batman Beyond did get an animated movie direct-to-video release in Christmas of 2000, titled, Batman Beyond: Return of the Joker, but was deemed too violent for children to watch, so a censored version was released. The film did keep its PG-13 rating, though it took two years for an uncensored cut to come out. I remember watching fragments of the movie as a child when it came out and all I remember was being very frightened. I haven't returned to the film since. As you can tell by the clip below, the film takes on a much darker tone than children were used to from The Animated Series or Batman Beyond.
A live action Batman Beyond film was more than likely deemed an
unsafe bet to produce since the demographic was mainly children and if an animated film had to be censored then a live action film would most likely have come under control from studio interference, thus stifling creative control, and bringing in low box office numbers since there really wasn't a demographic for it at the time.
Oddly enough the idea for a live action Batman Beyond film is still being talked about today and was just brought up last year. Who knows…maybe it'll happen someday, but chances are that we will likely never seen a live action film based off the spin-off cartoon put out on Saturday morning television 17 years ago.
There you have it folks. Three Batman films that will never seen the light of day. Personally, I'm glad Warner rejected these scripts (plus others) because otherwise we may not have gotten Nolan's brilliant vision of the Dark Knight.